Description
Pump-up the jams on this body balancing tune. DHEA helps create harmony between hormones that mess with health, sex drive, and aging – to keep you looking and feeling young. All. Day. Long.
How To Use:
As a special dietary supplement for adults, Men: One capsule 1 to 3 times per day before meals. Women: One capsule 1 or 2 times per day, or as directed by your health care care practitioner.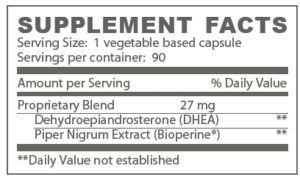 Other Ingredients: Vegetable Cellulose (Capsule), Rice Flour.
Bioperine® is the only product sourced out of piperine to obtain
a patented status for its ability to increase the bioavailability of
nutritional compounds. Secondly, it is the only source from
piperine to have undergone clinical studies in the U.S. to
substantiate its safety and efficacy for nutritional use.